Graphics design, film, photography, interior design and fashion, all that in our list of interests. We love mixing and matching elements, or in art terms doing things 'mixed-media'. We see plain shirts or hoodies as blank canvasses waiting for it's artist to put his work, and personality on it. This is what we love to do, customizing and personalizing what we wear.
We are Metro Manila Philippines – based graphic designers and film-makers who love all things art.
We don't want limitations and conventions dictate who we are or what we plan to achieve, and so we'll never ever settle from challenging what's possible, just like you. And that is what we intend.
customizable. curated. convenient.
We give you this experience.
Customizability doesn't only mean having a number of options. Being able to customize means having to create it exactly the way you imagined, from the t-shirt and ink color down to the silkscreen print texture and thickness , embroidery print size or direct to film (dtf) print placement. And so this is the kind of customizing that we intend to give you.
It isn't customizable however, when your are limited by it. So we made sure that to have print methods that don't have minimum order requirements for your personalized t-shirts, sweatshirts, polo shirts and hoodie prints


We guarantee top-notch quality for your products. For this we are able to take cues from our graphic designers and artists who are more than willing to give you options and suggestions as you please. We can help you turn your customized t-shirts / polo shirts / hoodies / sweatshirts / caps from one that's already good into something that could be even better. Like you we care about your personalized creations too.
We give you as much control as you want right at your fingertips. You can develop your own creations at our Customize page. Our customize page is developed to give you the power to develop and design your t-shirt, sweatshirts, hoodies, polo shirts and caps at the simplest, convenient and creative way possible. You will find tons of shirt, hoodie, polo and cap design print options to choose from for your personalized creations. Customization should be a fun experience, it shouldn't be a task.
Our corporate clients, past and present:
We have built strong relationships with our satisfied corporate clients through the years by providing them quality, responsive and reliable service through our production of their custom shirts, hoodies, sweatshirts, caps, mugs and polo shirt requirements. In turn, we have been blessed to be chosen by a good number of these companies to be their official supplier. Check out some of our past and present corporate clients: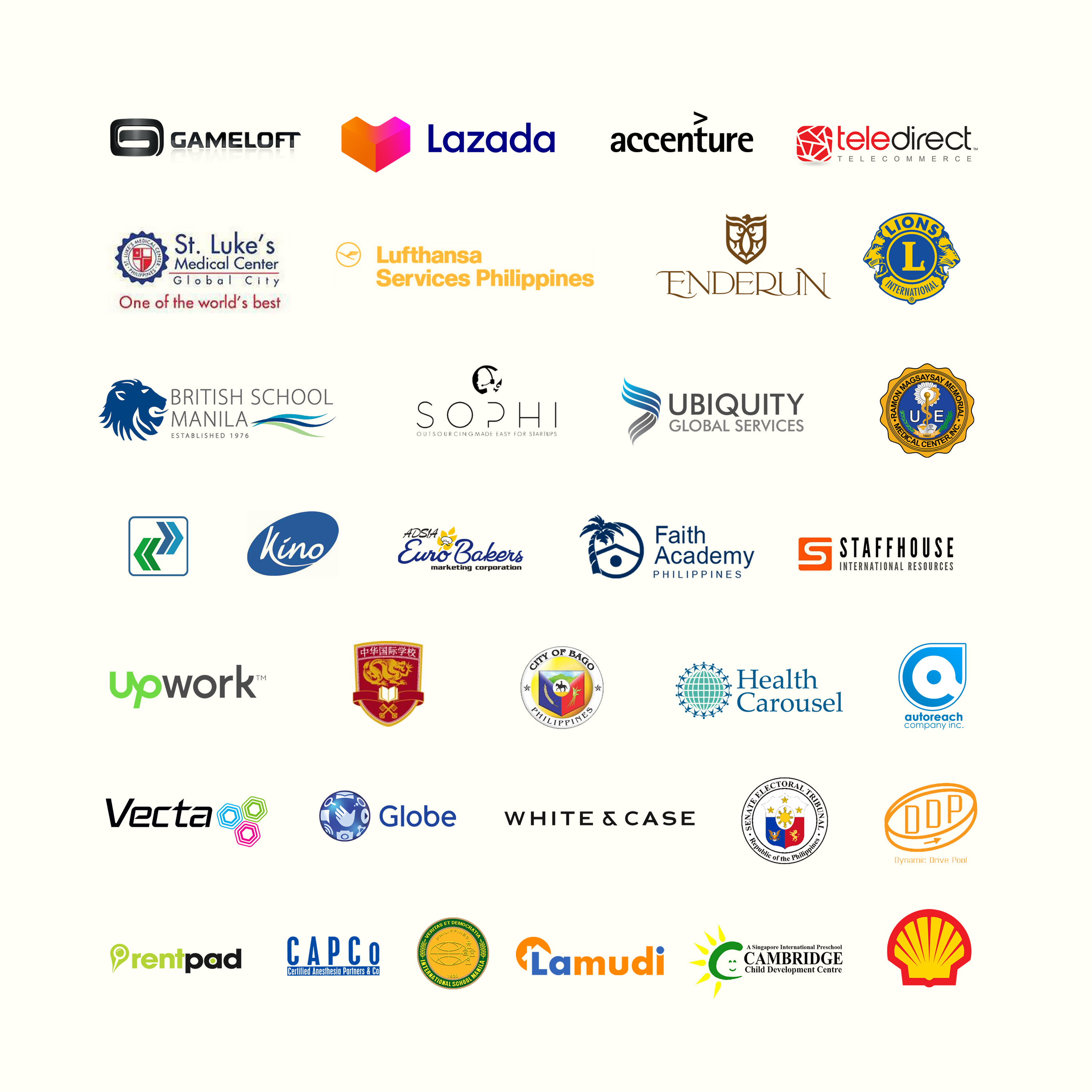 We are not the only customized t-shirt screen printing shop in Manila, Philippines, there are a number of them actually. If there is one thing that we can proudly claim, it is that we are sure to be the only custom shirt printing shop that can offer you this kind of experience, just like you imagined.